The Best Restaurant in Brooklyn: Roman's. Roman's?
October 24, 2012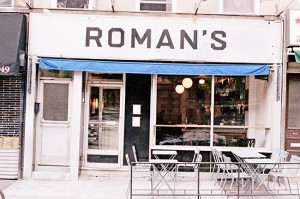 You can bet it was stiff competition over at L Magazine. Bu tby polling their readers, they have determined, they think, the very best restaurant in all of Brooklyn.
Roman's
What/where/wha is Roman's and what about Al Di La?
Roman's is a restaurant in Ft. Greene on DeKalb. I've never heard of it but apparently a lot of people have and they LOVE it.
It's quite an honor to be number one. Considering the competition.  In the running were Roberta's, Marlow & Sons, Vinegar Hill House, Park Slope's beloved Talde.
Roman's is owned by the folks behind Marlow & Sons, Diner, and Reynard. (That's the restaurant in the Wyethe Hotel?)
Roman's has been around for three years. It's very popular. Clearly, they've got a lot of fans. Who voted.
Now we'll never get in. Wonder if they serve lunch?
Comments