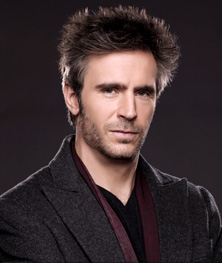 Standing in the Community Bookstore, viewing a shelf of new paperbacks with  my back to the front desk, I heard a familiar voice, a fabulous voice, a compelling voice discussing James Woods' nasty review of Tom Wolfe's new book, Back to Blood, in the New Yorker.
Who was that fabulous and handsome man, his voice so smart and sexy, discussing the New Yorker while  buying books?
Who was that man?
It was Jack Davenport, who is best known for his role in the Pirates of the Caribbean: The Curse of the Black Pearl movie. But I know him from Smash a fabulous television musical drama (fizzy soap opera) about the Broadway theater world that follows a fascinating collection of B'way professionals who live to have a S M A S H. The stellar cast includes Anjelica Huston, Katherine McPhee, Debra Messing, Christian Borie, Megan Hilty and JACK DAVENPORT, who plays the slightly sadistic, hot headed but equally fascinating theatrical director Nigel Wills.
Omigod, the voice is just seared into my brain.
Once Davenport left the bookstore, I asked Ezra Goldstein, c0-owner of the bookstore: "Who was that man?" He filled me in briefly. Turns out Davenport lives in Park Slope and shops frequently at the Community Bookstore. Goldstein suggested to me that Davenport is an avid and engaged reader. Obsessed, I did some research on the man. The voice was born in 1973 in Suffolk, England, and is the son of actors Maria Aitken and Nigel Davenport.
He studied Literature and Film Studies at the University of East Anglia. His first big break came after he wrote to John Cleese  to be a PA on Fierce Creatures and he ended up playing a zoo keeper. His first major role however was that of public school educated barrister Miles in the BBC television series "This Life" (1996). Film roles include Ultraviolet" (1998) where he played a modern-day vampire hunter, The Talented Mr. Ripley (1999) as Matt Damon's love interest, and Pirates of the Caribbean.
I am literally counting the days until Smash returns. God, I love his voice.