Proposal for Rezoning School District 15: Download it Here
October 20, 2012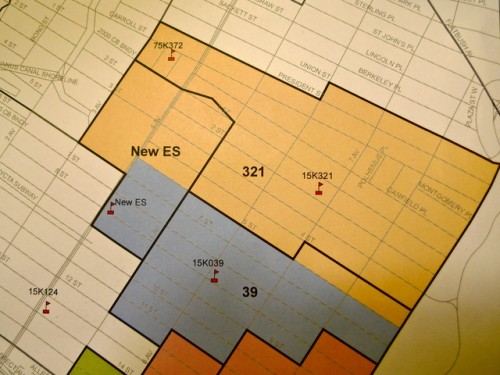 The following is information I gleaned from reading a PDF available on the Department of Education website. about the planned changes to the zoning in District 15, the school district that serves parts of Park Slope.
The map to the left shows the exisitng zones for PS 321 and other local schools with black lines showing the new cutoffs.
According to the Department of Education, P.S. 321 and P.S. 107 are over-utilized schools. Enrollment trends (i.e. lots of new residents in high-rise buildings on Fourth Avenue and elsewhere) are expected to further exacerbate the overcrowding conditions at these schools.
To address growing demand and prevent, reduce waiting lists and cap class size at P.S. 321 and P.S. 107, re-zoning will enable locals to take advantage of a NEW kindergarten through   5th grade chool and additional capacity at P.S. 10 :
Yes, a NEW SCHOOL. The DOE plans to open a new zoned K-5 elementary school in building K763, St. Thomas Aquinas, located at 211 8th Street (on Fourth Avenue)  in 2013
Because the St. Thomas Aquinas building is located within P.S. 39's zone, the DOE is also proposing a modest change to P.S. 39's zone lines, but no change inenrollment is planned for that school.
Comments