Ribbon Cutting Ceremony for Prospect Park's Music Island
October 19, 2012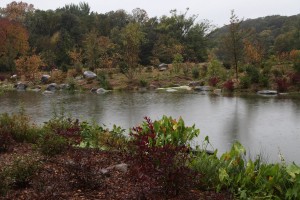 Today the Prospect Park Alliance hosted a ribbon cutting ceremony to mark the dedication of Chaim Baier Music Island & the Shelby White and Leon Levy Esplanade at Lakeside. The event was a celebration of the recreation  of what is considered the most formal area of the Prospect Park, as designed by Frederick Law Olmsted and Calvert Vaux in 1867.
Lovely.
The original Olmsted and Vaux landscape was dismantled in 1960 for the construction of the former Wollman Rink. The recreation of Music Island and the Esplanade is the first phase of a restoration project that will include, in the second phase, a new 25,000-square-foot facility and two skating rinks to be completed in late fall 2013.
Can't wait for the  new skating rinks.
Who's paying for all of this? The first phase was funded by a $10 million grant from the Leon Levy Foundation, with additional funding from other sources.
Music Island is being named in honor of Ms. White's father, Chaim Baier, and the Esplanade is in honor of Ms. White and her late husband, Mr. Leon Levy.
Yup, Marty Markowitz was, of course, at the ribbon cutting: "Prospect Park is an urban emerald—a crown jewel—in our city's park system, and I am thrilled that Music Island and the Esplanade have been restored to their original glory. The northern shoreline of Prospect Park Lake will be an oasis and gathering place for not only local residents, but visitors from around the world."
Emily Lloyd, President of Prospect Park Alliance, said, "The completion of the Chaim Baier Music Island and the Shelby White and Leon Levy Esplanade marks a transformative milestone in the restoration of Prospect Park. For the first time in over fifty years, Prospect Park will have the gathering spot of extraordinary beauty that was central to Olmsted and Vaux's vision for the Park as both a great gathering place and a place to reconnect with nature. Countless Park visitors will benefit from Shelby's vision and the Leon Levy Foundation's generosity for decades to come."
Nice.
Comments