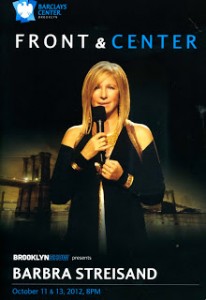 I woke up at  6AM in California and checked Twitter to find out what the folks in Brooklyn were saying about last night's debate.
Well, that was pretty predictable. Most everyone thought Biden killed it (as did I) except for the rare conservatives on my Twitter feed who thought Ryan was well-informed and persuasive.
Fair enough. You see what you want to see.
But there were more than a few tweets about the traffic patterns outside the Barclay's Center, where Barbra Streisand performed her first Brooklyn show since singing for her mother in the living room of the apartment she grew up in.
"Traffic after Streisand concert made 11:40 seem like peek rush hour with angry honking..." read one tweet.
Norman Oder on Atlantic Yards Report said there was no carmageddon, his term for the traffic apocalypse, he expects the arena to create. However, there was  "lots of idling limos and noisiness/mess as crowd exits."
Pretty much what you'd expect after a stadium show. And that's not a good thing so near a residential area. This was Oder's report:
Brooklyn native Barbra Streisand made a triumphant return to Brooklyn last night for the first of two concerts, bringing the boldface names out in force (as the Barclays Center Twitter account was sure to tell us).

Celebrities included Katie Couric, Woody Allen, Rosie O'Donnell, Sting, Calvin Klein, Barbara Walters, and Mayor Mike Bloomberg. The Daily News's pop music critic was enthralled, as was the Times reviewer, who wrote: "Like few singers of any age, she has the gift of conveying a primal human longing in a beautiful sound." (More coverage: NY Post, Associated Press, NY1, USA Today, WSJ).
While Oder admitted that traffic, did, for the most part move with ease. there were problems. "
But--and this surely had something to do with the boldface names--there were an enormous number of limos looking for riders, idling and parking illegally in the streets around the arena, parking in the arena lay-by lanes, and double- and even triple-parking on adjacent streets like South Portland Avenue in Fort Greene.