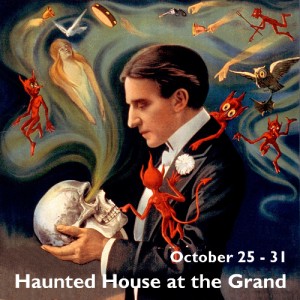 In Tracy, California, the small city that used to be the small town where my husband grew up on a walnut farm, when you need to go shopping you go to the mall.
It wasn't always like that. As in a lot of American towns, there was once a robust downtown: a main Street with stores, restaurants, hardware stores, a stationer, even a hotel.
Well, the Tracy Inn, a Spanish style hotel built in 1927 is still here, though it lacks it former grandeur. There is even the Grand Theater of the Arts that has actually revitalized the downtown quite a bit and offers some adventurous programming (as you can see, they're having a haunted house there for Halloween).
The downtown is also the site of the annual Tracy Dry Bean Festival, a full day every summer of bean ice cream, bean chips, & of course chili beans.
Still, the shopping life of this community is at the mall, the West Valley Mall. And that's where we went today to try to find a simple black skirt for my daughter to wear to her cousin's wedding on Sunday in Monterey.
Well, many stores and four hours later we FINALLY found a nice black skirt at J.C. Penny's. And I must say, it was a good find. Somehow, miraculously, this black skirt was marked down to $5 dollars.
Yes, you read that right. It's better than Beacon's Closet .And you know what? She looks like a million bucks.
My girl.