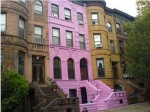 I wrote this back in 2009: It's about the Pepto Bismol House at 233 Garfield Place that just got sold for a cool $2 million bucks. To paint or not to paint: that is the question.
You know the Pepto Bismol house, the pink brownstone on Garfield Place? Well, my sister walked by this morning and it's for sale.

Now that's a tip!

The Pepto Bismol house is the house people either love to love or love to hate. It's been painted that shade of pink since before Park Slope was a historic district. That means its right to be pink is grandfathered in. If someone buys it they will have the choice to keep it pink or return it to its Brownstone grandeur.

Recently I was interviewed by a graduate student from the Netherlands who is studying Fifth Avenue and Park Slope for her thesis in urban planning. She asked me about the pink house and said that everyone she talks to brings it up or has an opinion about it. Many feel quite negatively about it.

I kind of like the Pepto Bismol house for its outsiderness, its expressivity, its wild and open uglinesss.