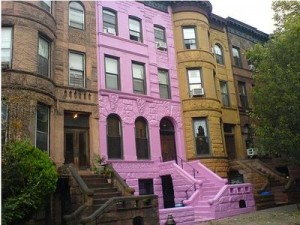 Just heard via Brownstoner that the Pepto Bismol House aka the pink house at 233 Garfield Place has been sold. Many of you will remember that the house was first listed in 2009 for $2.5 million but was swiftly pulled off the market. There was even a story on OTBKB. 
Last January it went back on the market for a cool $2.3 million. The new owners paid $2.075,000 and must now decide whether to keep it pink or repaint.
What do you think? Please leave your color ideas for the Pepto Bismol House in comments.
Bernie Henry is the man who painted his classic Park Slope brownstone salmon pink in the 1960s. I don't know if he is still alive. He put the house on the market and then pulled it off back in 2009 because, as a real-estate source told The Brooklyn Paper, Henry's grandson was under investigation for forging key documents that have put a cloud over who has legal ownership of the building.
At the time, Henry said he couldn't speak about the matter because his ailing wife had just died.
Now that the house has sold, it is truly, the end of a Park Slope era. The era of the Pepto Bismol House. I wonder if the new owners will get tired of explaining the history of that house.
Or will they?