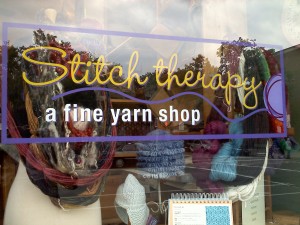 In 2004, Maxcine DeGouttes opened the bricks and mortar fine yarn shop, Stitch Therapy on Lincoln Place in Park Slope. As described on her website, it really was "a busy hive of creativity, inspiration and support for Brooklyn's community of knitters, crocheters, and weavers."
Later, Maxcine moved her shop to Park Slope's Fifth Avenue sharing a storefront with Brooklyn Mercantile, a sewing, craft and home goods store. In early 2012 when the landlord raised the rent, the two small businesses decided to move on. Brooklyn Mercantile is now online only and Maxcine went to the DeKalb Market, a terribly run market that is now, thankfully, closed.
Happily, Maxcine/Stitch Therapy has landed in the front part of Noella Brew Bar, an attractive, brick-walled cafe on Seventh Avenue near Berkeley Place. There you can find her  iridescent hues of kettle-dyed fibers, tweedy wool and hand-painted, hand-spun yarns. Maxcine is also on hand to teach the passion of her life, knitting.
At Noella, Maxcine has replicated the atmosphere of her cozy old store on Lincoln Place. Customers can still benefit from the encouragement and shared knowledge, which Maxcine loves to give. Even better, you can now get a nice cup of tea or coffee and a pastry or sandwich, while you ponder your next knitting project.