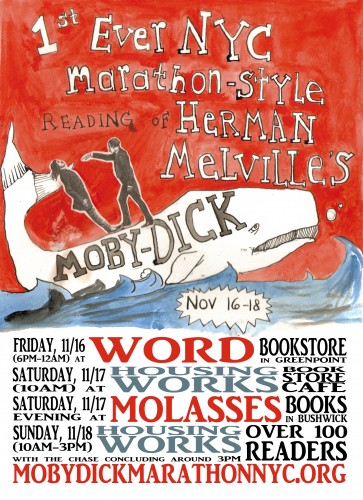 Now here's your chance to finally read, in its entirety, Moby Dick. It's the first-ever New York City marathon-style reading of Herman Melville's classic novel, Moby-Dick, Or, the Whale.
The event will span three days, three bookstores, two boroughs, and feature over a hundred readers, including authors Jonathan Ames, Rick Moody, Sarah Vowell, Touré, Mark Kurlansky, Joshua Cohen, Aryn Kyle, David Goodwillie, Will Hermes, Lev Grossman, Eileen Myles, Elissa Schappell and more; joined by booksellers, editors, bloggers, journalists, and other Melvillians. The full crew is listed and updated here.
This epic event will span three days over the weekend of November 16–18, chosen because the book was first published in the United States on November 14, 1851. The event will begin the night of Friday 11/16 at WORD bookstore in Greenpoint, where there will be a pre-marathon presentation of the "Etymology" and "Extracts" from 5PM to 6PM, with the event officially starting with the most famous first line in literature "Call me Ishmael", at 6PM.
The night will be fueled by clam chowder from Littleneck restaurant. The marathon reading will pick back up on the morning of Saturday 11/17 at 10AM Housing Works Bookstore Cafe in Soho.
Around 11:30AM Amy Virginia Buchanan's Pequod Players will present a dramatic performance of chapters 37–40: Ahab, Starbuck, and Stubb's monologues and chapter 40, "Midnight, Forecastle." Saturday will be fueled by more Littleneck chowder before moving back to Brooklyn to continue the night at Molasses Books in Bushwick (4PM–12AM) with clam and flounder chowder from Brooklyn's Do or Dine. The marathon will finish back at Housing Works Bookstore Cafe on Sunday 11/18 at 10AM, with the chase concluding around 4PM.
"To hear the book read aloud in its entirety is a wonderful way to experience it for the first time or anew—and the perfect opportunity to read Moby-Dick in a single weekend. It's going to be a great celebration of a canonical New York City writer, and hopefully the inauguration of a New York City literary tradition. Though an urban reading of the book might surprise some, it's an apt home, as the novel begins in the "insular city of Manhattoes" and the author was born and died here in New York City," write the organizers Polly Bresnick and Amanda Bullock.