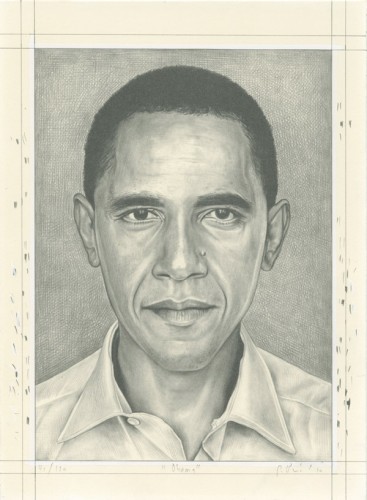 The week began with Baracklyn, a Monday night fundraiser at the Brooklyn Bowl in Williamsburg with New York Senator Chuck Schumer, White House staff member Valerie Jarrett, Newark Mayor Corey Booker, Mass, Governor Deval Patrick and singer/songwriter extraordinaire Steve Earle. More than 500 Obama supporters were in attendance and the event raised $300,000 for the President's campaign.
On Wednesday at ArtObama, more than 100 artists donated their artwork to benefit the President's re-election campaign. The event on Atlantic Avenue was packed and fun. A great crowd, good wine, tasty snacks, terrific conversation. The space, a former art gallery called Metaphor and now a studio, looked stunning with its walls covered with really interesting art by the likes of David Konigsberg, Julian Jackson, Margaret Neill, Ann Agee, Tom Chambers, Hugh Crawford, Phong Bui (print of Obama above) and more.
Later that night Obama debated Mitt Romney. I listened to some of the debate in the car service on the way home from ArtObama (the Internet streaming we hoped to see at the auction didn't work). Once I got the television on, it was obvious that Obama was having an off-night and Romney was, uncharacteristically, very on.
I missed Rommney's comment about Big Bird but it was all over Twitter during the debate and after.
"I'm sorry, Jim. I'm going to stop the subsidy to PBS. I'm going to stop other things. I like PBS. I love Big Bird. I actually like you, too. But I'm not going to — I'm not going to keep on spending money on things to borrow money from China to pay for it."
Those were fighting words. Twitterers went wild defending Big Bird and worrying about the future of PBS. Even PBS got in on the act with a statement:
"Governor Romney does not understand the value the American people place on public broadcasting and the outstanding return on investment the system delivers to our nation."
The Twitterverse was unanimous in its sense that Obama look tired, unprepared and even depressed. Some blamed it on the fact that it was his anniversary; others said it had to do with his strategy and staff directive to be low-key and presidential.
Letterman on Thursday night showed a hilarious fake Cymbalta ad that inserted images of Obama during the debate.
Friday night there was a cmall package in my mailbox from my 89-year-old Aunt Rhoda in White Plains. She sent me an O necklace. "O for Obama," she wrote on her business card, which said Aging in Place, an organization she is actively involved with.
Aging in Place "refers to living where you have lived for years, typically not in a health care environment, using products, services, and conveniences which allow you to remain home as circumstances change."
Thank you Aunt Rhoda for a beautiful gift and a perfect ending to my Obama week.