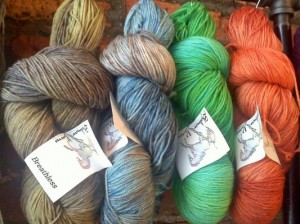 On Saturday, October 8 from 10AM until 6PM, Stitch Therapy and the Old Stone House (Fifth Avenue and Third Street in Park Slope) present the Kings County Fiber Arts Festival this weekend at The Old Stone House, a festival of natural fibers for spinners, knitters and crocheters, offering handspun and painted yarns and rovings of many varieties. Handcrafted knit, crocheted and woven clothing, hats & scarves for the family.
The following artisinal fiber artists will be on hand at the festival: Artikal Handcrafted Millinery, Bay Haven Short Tails, Bittersweet Ridge, Brooklyn Crochet Collective, Cobblerock Ridge Farm, Compassioknit, Crochet shirret Rag Rugs, Decadent Fibers, Fish Hollow, Full Moon Farms, Hellomello Handspun, Humdinger Alpacas, Juliet Martin Designs, Lilac Hill Farm, Looliemom Fiber Arts, Loop of the Loom, Okos Farm Fiber, Pollywogs, Queen Bee Fibers, Utopia Bath, Winter's Past Farm
Here's a schedule of activities to expect:
11 am: Pop-Up Yoga NYC: An Ergonomic Stretch for Crafters
12 pm: Finger Knitting Demonstration for Children
12pm - 6 pm: Fabrications, an exhibit by Gail Rothschild in the OSH Great Room
1 pm: Finger Knitting Demonstration for Children
2 pm: Spinning Wheel and Drop Spindle Demonstration by NYC's Spin City
3 pm: Music by the Famous Accordion Orchestra
4 pm: Fleece Talk - identification and Characteristics w/ Kris Brynes, Winter's Past Farm
6 pm: Exhibit Reception: Fabrications by Gail Rothschild
PHOTO FROM PARK SLOPE STOOP!