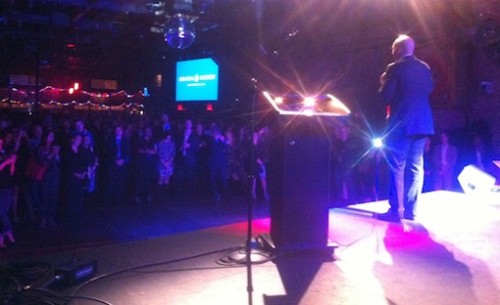 Newark, New Jersey's Mayor Corey Booker "killed it" at Baracklyn, Monday night's Obama fundraiser at the Brooklyn Bowl in Williamsburg. Over 600 people attended the event, which featured Park Slope's own Senator Chuck Schumer, White House Senior Advisor Valerie Jarrett, Massachusetts Governor Deval Patrick and Food Network Host Ted Allen at the podium. Singer/songwriter Steve Earle was also on hand to sing a few songs.
The audience representing Obama's base of support in Brooklyn (dubbed Baracklyn during the 2008 election) responded enthusiastically to Booker's smart, funny and very spontaneous speaking style, which combined strong reasons to re-elect the president plus great asides about Brooklyn.
"Manhattan is nice," Booker said at one point. "But Brooklyn is sexy." As you can imagine, the crowd loved that one.
Massachusetts Governor Deval Patrick who was something of a rock star at the Democratic National Convention this year, mentioned that his wife  is from Bed Stuy, which got an enthusiastic reaction from the crowd.
The event raised $300,000. Tickets prices began at $250 and went up to $2,500 and beyond if you were so inclined. As incentive to the higher contributors, there was a VIP area near the bowling alley plus bowling privileges and the chance to hobnob with the politicians. I'm guessing there were free drinks in that area.
Those on the lower end of the pay scale were restricted to the Bowl's large performance space and bar area. A cash bar kept the drinks flowing and Steve Earle delivered an affecting set singing a song about Woody Guthrie and an especially beautiful song about New York City, written by Earle who moved here only seven years ago. It's called City of Immigrants.
City of black
City of white
City of light
Livin' in a city of immigrants
City of sweat
City of tears
City of prayers
Livin' in a city of immigrants
City of stone
City of steel
City of wheels
Livin' in a city of immigrants
City of bone
City of skin
City of pain
City of immigrants
All of us are immigrants