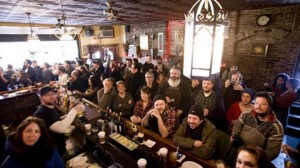 Timeout's Nina Chaudhury asked her fave Brooklyn bloggers for their fave local spots. Happy to say, she included me in this round-up of recommendations on food, shops, and points of interest in these parts.
I'm in good company with Brooklyn Bugle, Effed in Park Slope, Free Williamsburg, Brokelyn and many more. Take a look at my picks. Of course, now that's it's published I keep thinking of places I should have mentioned.
I picked The Gate for its Sunday night screenings of Breaking Bad reruns and its outdoor patio great for dogs, children, and drinking adults.