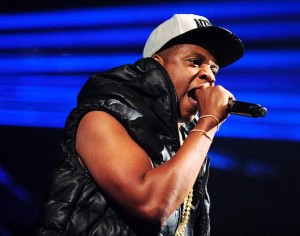 Superstar Jay-Z opened the Barclay's Center last night as protestors demonstrated outside. A big night for Hip Hop fans, the tabloids devoted pages to the star-studded event, a veritable who's who of the New York entertainment and sports world .
The rust colored waffle iron was filled with cheering fans as Brooklyn-born Jay-Z, the Daily News reports, told them: "Tonight is a celebration of the borough where I'm from. Welcome to my house."
The new billion-dollar home of the Brooklyn Nets seats 18,200 people and has caused no small amount of controversy and consternation in the neighborhoods surrounding the arena.
Park Slope and Prospect Heights locals are worried about traffic, parking and crowds on Atlantic and Flatbush Avenues, already car-packed arteries. Many are still enraged by the way the project came about with its complete disregard for community input. Rife with sweetheart deals and political wrangling, the project created much in the way of bad karma and rancor for Forest City Ratner and the politicians who supported him.
Anger, joy, apprehension, anticipation, excitement, and pulsing anxiety. Clearly, the opening of the Barclay's Center is creating a schizoid mix of emotions. Ironically, the Barclay's Center has the potential for uniting Brooklyn's diverse communities. At the same time it represents urban development at its worst.
A big night for the Hip Hop world, last night was also a big night for Brooklyn progressives who have contested the project for eight years.
Last week Forest City Ratner announced that they would break ground on the first of many planned residential towers. The project, the biggest ever in Brooklyn and heavily subsidized by public funds, has disappointed many for the lack of jobs it has actually created and the spurned promise of affordable housing.