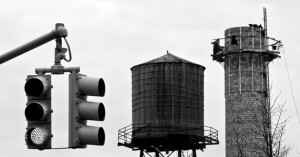 Timed for the opening weekend of the Barclay's Center, tonight from 6-8PM there is an opening reception for Atlantic Yards: Deconstructed at the Soapbox Gallery (636 Dean Street) in Prospect Heights.
This show of work by photographer Tracy Collins chronicles the rapidly changing urban landscape in and around the footprint of the Atlantic Yards since the project was announced in 2003.
Collins has been "on the ground"  with his still and video camera documenting the impact of the development over the past nine years. He posted these photos almost daily for years on his blog,  Not Another F*cking Blog! He spoke at the Brooklyn Blogfest in 2009; he is a wonderful photographer and a very interesting artist.