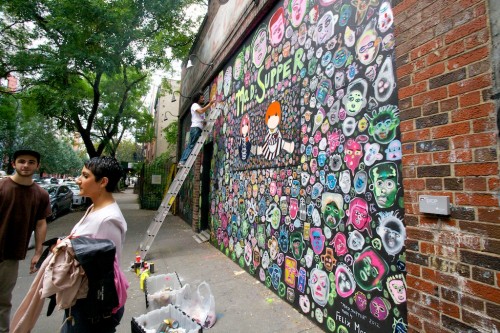 Tom Martinez has a show of his photography at the confusingly named Ninth Street Espresso (because it is actually on East 10th Street). It turns out the space is the western half of the now-defunct Life Cafe, a legendary East Village bar/restaurant/cafe on the corner of Avenue B.
Tom's photos of the Coney Island Mermaid Parade, the Occupy Wall Street May Day march and other New York City moments look great at the cafe, which is located at 341 E. 10th Street right across from the north side of Tompkins Square Park.
Ninth Street Espresso is an attractive cafe for serious coffee lovers who like artisenal beans and the assurance that the growers are well cared for.
Tom took the photograph of Felix Morelo at work on a mural on his way to the show's opening reception.