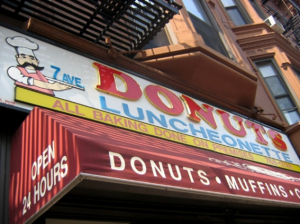 1. Sweet Melissa's is where I go to meet my sister for a quiet (or not so quiet depending on what we're discussing) Saturday morning chat and coffee. She always has the oatmeal and I usually have the fruit and yogurt. Or a scone. My niece usually has some insanely delicious pastry thing. The staff is really friendly and accommodating.
2. Grand Canyon. Yup. I know that place gets a lot of pounding. But I think it's a good, basic coffee shop when you're in the mood for eggs over easy with rye toast, no potatoes and a small orange juice. And coffee. Coffee shop coffee.
3. Connectiut Muffin always satisfies. Especially in the summer with an iced hazelnut coffee light with one Splenda. The bialy with butter is always good, as are the muffins and the almond croissants. And you can't beat the people watching and eavesdropping.
4. Donuts or Seventh Avenue Donuts Diner—and lord knows it's not just donuts. Isn't Donut's everyone's favorite authentic coffee shop. No frills, lots of thrills. I like their french crullers.
5. The best egg and cheese sandwich in the Slope? La Bagel Delight, of course. And the bagels with many toppings to choose from? You can't miss.