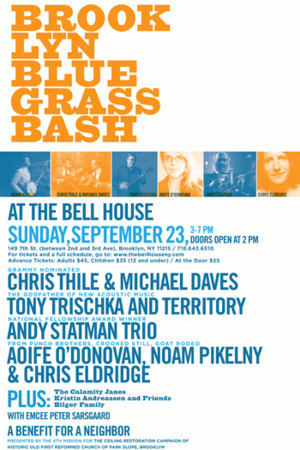 Tomorrow. Get ye over to The Bell House. Stat. To hear some fine music and to raise money for a fine church, Old First Dutch Reformed Church in Park Slope, the oldest church in Brooklyn. Their ceiling is falling down and they need to fix it.
From 3-7PM, actor Peter Sarsgaard will be on hand to emcee a great afternoon of music with Grammy nominee Tony Trischka on double banjo, Kenny Kosek on the fiddle and Jen Larson on vocals.
Klezmer legend, Andy Statman will also be in da house with his trio.
Also appearing: Chris Thile, Noam Pikelny and Chris Eldridge of the Punch Brothers; Aofie O'Donovan of Crooked Still and Goat Rodeo; Kristin Andreassen of Uncle Earl and Michael Daves.
It'll only cost ya $45 now if you click here $35 for kids and $55 at the door. Note as of 5:00 on Saturday, pre-sale tickets are sold out. There will be tickets available at the door.
Brooklyn Bluegrass Bash, Sept. 23, from 3PM - 7PM at The Bell House, 149 7th St Brooklyn.