Protest Planned Prior to Barclay's Ribbon Cutting Today
September 21, 2012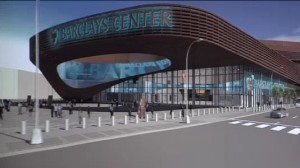 This morning is the official ribbon cutting and press tour of the Barclay's Center, that big rusty waffle iron of an arena that was built on Atlantic Avenue on the site of the former Atlantic Yards.
Prior to that event, at 8:15 am (at 669 Atlantic Avenue) members of a consortium of Brooklyn community organizations that opposed the arena from the start will display giant bobbleheads of Mayor Bloomberg, Governor Cuomo, Borough President Markowitz, Bruce Ratner, Mikhail Prokhorov, and Senator Schumer.
In effect, these community groups including Develop Don't Destroy Brooklyn, Families United for Racial and Economic Equality, Brown Community Development Corporation, BrooklynSpeaks, Fifth Avenue Committee, are creating an alternate ribbon cutting ceremony and press conference.
At the alt-ribbon cutting the bobbleheads will describe the much lamented and troubled history of the Barclays Center and Atlantic Yards project.
Of course it's too late to try to prevent the arena which is built and ready to open. But it is pertinent to vocally protest the many unfulfilled promises, among them affordable housing and local jobs.On September 10th, the city's Independent Budget Office released a report saying delays and increased public subsidies for the NBA arena, would cost the city $39.5 million more in spending over its first 30 years than it would generate in tax revenues.
The alternative ribbon cutters will explain how the arena is not affordable housing and the promised jobs are phantoms.
The arena is costing $300 million in taxpayer dollars, and nearly $1.6 billion in special breaks, government favors and below market public land sales!.
Shockingly but not surprisingly, not a single one of the promised 2,250 taxpayer subsidized, "affordable" housing units is under construction, and of the 10,000 "permanent" jobs promised, the developer has announced only 105 full time jobs and 1,900 low paid jobs (non-living wage).
Comments