OTBKB's Top Ten Brooklyn Book Fest Bookend Events
September 15, 2012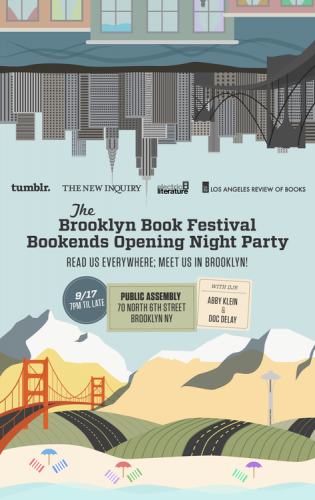 There are SO many  Brooklyn Book Festival Bookend Events September 17-22 and so many of them sound interesting. How to choose? Author? Location? Venue? I just looked through the list and picked out ten that I think sound really interesting. In chronological order:
1. On Monday, September 17 at 7PM: I'm definitely taking the G-train to Williamsburg for the Free Opening Night Party for Brooklyn Book Festival Bookends. Three top literary web-based publications (and Tumblr super-users) invite you to meet your Internet friends in person for chatting, drinking, and dancing to kick off the most bookish week in Brooklyn. Guest DJs and free drink specials enhance the East Coast vs. West Coast faceoff, and everybody wins! Location: Public Assembly, 70 North 6th Street (between Wythe and Kent Avenues).
2. On Tuesday September 18 from 8-11PM: I'm psyched for the One Teen Story Launch Party and Homecoming Dance at Littlefield (622 Degraw Street between 3rd and 4th Avenues). Relive your teenage days with a homecoming court of YA authors, photographs, and a homecoming king/queen raffle. Take part in the festivities—which include dancing and homemade desserts—with the One Story staff! Price: $25, selling tickets in advance.
3. On Wednesday, September 19: I hope I can make it out to Fort Hamilton Parkway for this.  A Photographic Journey of Brooklyn. Photographic books by Israelowitz Publishing on Brooklyn's history including author Leslie Arlette Boyce (The Glory of Brooklyn's Gowanus) with special guest Ron Schweiger, Brooklyn Borough Historian. Location: Fort Hamilton Senior Recreation Center (Ball Room), 9941 Fort Hamilton Parkway (100th Street and Fort Hamilton Parkway) Time: 1:30 pm – 3:00 pm
4. Wednesday, September 19, 7-9PM: This is definitely the A-list event of the Bookends. powerHouse Arena presents a book launch for Salman Rushdie. Rushdie will discuss Joseph Anton, his memoir about life as a writer forced underground. Fans of the famed novelist will not want to miss this exciting event. Ticketholders receive a signed copy of the new memoir. Location: powerHouse Arena, 37 Main Street (at Water Street). $35.
5. Wednesday, September 19 from 7-9PM: This actually sounds really useful. How to Publish Book Reviews & Features moderated by Susan Shapiro. A lively, informative talk features book editors John Reed (Brooklyn Rail), Monica de la Torre (Bomb), David Propson (WSJ Book Section) and Rob Spillman (Tin House) spilling the secrets of how to break into book reviewing, profiling authors and discussing the future of book criticism. Moderated by NBCC board member Susan Shapiro. Location: Park Slope Barnes & Noble, 267 7th Avenue (at 6th Street)
6.  Also Wednesday, September 19: Who doesn't love Denis Hamill? And he's reading on the waterfront. New York Daily News columnist Denis Hamill reads Arthur Miller's masterly short story, "Fitter's Night." Sit at the waterfront's edge and be transported to a WWII-era Navy Yard where Miller himself worked the night shift. Location: Brooklyn Navy Yard Center at BLDG 92, 63 Flushing Avenue (near Carlton and Flushing Avenues) Fee: $8
7. Thursday, September 20 from 7-9PM: This is one of the best of the Bookend events.  A special ringShout evening of readings by and conversation with notable African-American writers. Featuring Jacqueline E. Luckett (Passing Love), Calvin Baker(Dominion), and a tribute to novelist Erica Kennedy (Feminista) by her friend Eisa Ulen. Co-hosted by the Franklin Park Reading Series. Location: Franklin Park Bar and Beer Garden, 618 St. John's Place (between Classon and Franklin Avenues)
8. Thursday, September 20 at 7PM: I just love this one.  Brooklyn Reading Works hosts Young Writers Night at the Old Stone House in Park Slope. The two-hour program, a Brooklyn Book Festival Bookend event, will showcase up-and-coming teen authors from across five boroughs as they present everything from fiction to song. And maybe the coolest part? The whole thing's curated by Hannah Frishberg, herself a high school senior. One Teen Story will be on hand  giving out free copies of that new magazine. Event will be introduced by Brooklyn Poet Laureate Tina Chang.
9. On Saturday, September 22: This sounds like a lovely, poetic and perfect New York night. East River Ferry ride and reading of Walt Whitman's Crossing Brooklyn Ferry. Introduced and led by Karen Karbiener (NYU Whitman scholar) and Greg Trupiano (Walt Whitman Project). Location: Assemble at DUMBO/Brooklyn Bridge Park landing of the East River Ferry Company at 1 pm; board northbound ferry at 1:27 pm. Time: Full cycle of the ferry from and back to DUMBO/Brooklyn Bridge Park stop will run from 1:27 pm- 3:42 pm, though you are welcome to hop off and on the boa t. Price: Free with East River Ferry ticket ($4 one way, $12 all-day pass).
10. Also on Saturday, September 22 at 7PM: In celebration of Cage's 100th birthday, this sounds intriguing. John Cage and Buddhism with Kay Larson Larson author of Where the Heart Beats: John Cage, Zen Buddhism, and the Inner Life of Artists, will discuss the importance of Zen in the life and work of John Cage, with special guest, composer Raphael Mostel on Tibetan Singing Bowls. Part of Norte Maar's Cage Transmitted series celebrating the centennial of John Cage. Location: DUMBO Arts Center, 111 Front Street #212 (between Washington and Adams Streets)
For a full listing of events and more information go here. 
Comments