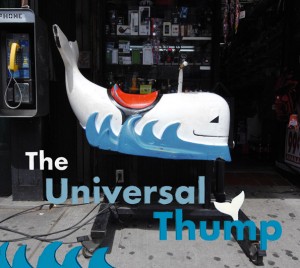 File this under: I happen to love Greta Ghertler's music, ambition and energy but I also love that we have the same last name except for an H. My maiden name was Ghertler.
More than a year ago, I raved about The Universal Thump's concert of the entire All Things Must Pass. It was a night to savor and enjoy the song craft of George Harrison, the sometimes neglected Beatle as his songs were performed by some of the best and brightest of Brooklyn's indie music scene.
The inspiration for the Thump's latest album is Moby Dick. Pause. See what I mean about ambitious? I can't wait to hear it and them.
Says the New Yorker Magazine: "The Universal Thump, a Brooklyn-based orchestral-pop band that is the brainchild of the Australian singer-songwriter and pianist Greta Gertler and the drummer Adam D Gold, swelled at times to sixty members over the four years it took to record its début release. The eponymous double album was inspired by "Moby-Dick," and it comes out Oct. 2. The band marks the occasion with a residency at the Living Room on most Mondays in October. Guests from the recording sessions are expected."
There you have it—and in the New Yorker, too.