That's Some Gorgeous Library: Park Slope Branch Reopens on 9/13
September 12, 2012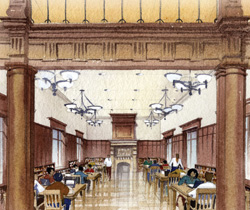 Three years and an extensive renovation later, the Park Slope Library is set to reopen on Thursday, Sept. 13!
Closed since 2009, the neighborhood is hungry for books and a library space in which to read, work, and research (and so much more). Come see the new and improved branch of the Brooklyn Public Library, at 431 Sixth Ave. between Eighth and Ninth Streets!
What to expect? New and improved reading and public spaces for children, teens, and adults. New equipment and technological enhancements like iPads to self-checkout machines.
Comments