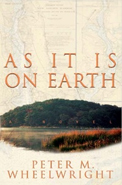 As many of you know, I started a company called Brooklyn Social Media last Spring. The focus: social media and publicity for authors, artists, and entreprenuers. I have the good fortune to have the very smart Marian Brown PR as a partner and the two of us are quite a dynamic duo when it comes to spreading the word on behalf of our clients.
Peter Matthiessen Wheelwright is an immensely talented and intelligent writer. He also happens to be a client. I believe it is only possible to promote authors and entrepreneurs who I think are genuinely exciting and talented.
Indeed, Peter M. Wheelwright is exciting and talented.
This week marks the launch of his "gorgeous debut novel" As It Is On Earth (from Fomite Press), the story of Taylor Thatcher, a young college professor wrestling with his religious legacy and family history. Wheelwright comes from New England stock, a family of American writers descending from hardy Puritan blood. He also happens to be the nephew of the three-time American Book Award winning author Peter Matthiessen, author of At Play in the Fields of the Lord and The Snow Leopard. 
He was interviewed in The Brooklyn Rail by journalist Scott Cheshire, who found the book to be "lovely, meditative, and thoughtful."
Peter Wheelwright is now officially a Renaissance man, a real triple threat. This is not to say he's a song-and-dance man. Then again it seems there is nothing the man cannot do. Wheelwright is an accomplished architect, and an Associate Professor at Parsons the New School for Design, who also happens to have work in the Collection of Architecture and Design at the Museum of Modern Art.

He is tall, affable, and the sort of guy who wears his intellect well, like an old denim shirt, comfortably, with a cool and unassuming style. We talked over coffee at the Housing Works Bookstore Café about his love of philosophy, Walker Percy, Deep Time, the power of stories, and how designing a building is not so unlike writing a novel.
Wheelwright will be reading in Park Slope with novelist Leora Skolkin-Smith on Tuesday, October 23rd at Two Moon Art House & Cafe at 7PM. Prior to that , on October 4th, he will be reading at Parsons New School of Design, where he is an associate professor. You can find more information about these readings here. 
His first novel has already gotten a great response; it was even blurbed by Meryl Streep (yes, that Meryl Streep) who wrote,
"With a Yankee tap root breaking thorugh layers of granite guilt and miscengentaion , Taylor Thatcher's family tree is a challenging climb...author Peter Wheelwright peers compassionately at a world inhabited by young survivors of extinct tribes and inherited griefs. Fascinating and absorbing and forgiving."