Bernette Rudolph's Art Classes for Children
September 7, 2012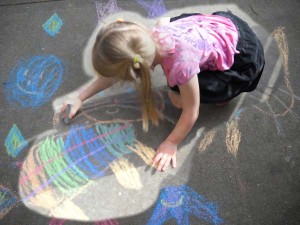 Bernette Rudolph, the elder goddess of the Park Slope art scene, has been teaching art to children for many years. She's quite wonderful with the kids and is able to unleash great torrents of creativity in her Third Street studio. (The photograph above is by Bernette).
Her small, focused classes are on Tuesday afternoons this fall. For more information, you can email Bernette at bernetterudolph(at)earthlink(dot)net.
An accomplished artist who works in a variety of mediums, she is one of the artists participating in Go Brooklyn Art, the massive open studio weekend with 2000 participating artists. On  September 8–9, 2012, from 11:00 am to 7:00 pm, curious art lovers are invited to pick up a GO map and start exploring as many open studios as time and energy permits.
Community members registered as voters can visit studios and nominate artists for inclusion in a group exhibition to open at the Brooklyn Museum on Target First Saturday, December 1, 2012.
Comments