Sept 20: Young Writers Night at The Old Stone House
September 6, 2012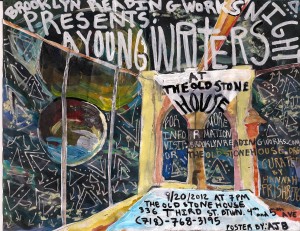 On Thursday, September 20th at 7PM, Brooklyn Reading Works presents Young Writers Night (Poetry, Fiction, & Song) at the Old Stone House.
This Brooklyn Book Festival Bookend event ,curated by high school senior Hannah Frishberg, will be introduced by Brooklyn Poet Laureate Tina Chang. One Teen Story will give out free issues of that new magazine.
Hannah has gathered together a stellar group of young writers and performers including songwriters Oliver Kalb, Lucio Westmoreland and Damo Smith, poets Nora Miller, Suli Rivera and Aya Aziz.
Comments