Every Book in the Bookstore Window is How Not To Read
September 6, 2012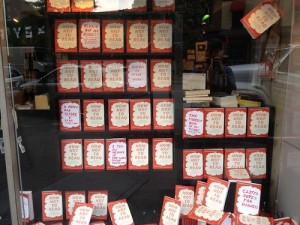 Maybe you noticed that every book in the Community Bookstore window is the same book, a new tome called How Not To Read: Harnessing the Power of a Literature-Free Life.
Officially released on Sept. 4, the  book by Dan Wilbur, is adapted from his popular blog, Better Book Titles, which he started in 2011. Here's what that clever lad did. He used Photoshop to put joke titles on the covers of famous books.
"A People's History of the United States" becomes "White People Ruin Everything."
"The Girl With the Dragon Tattoo" becomes "This is the First Book I've Read in Six Years."
You get the idea. And it's very, very funny.
How Not to Read, is a mock self-help book, that helps readers master literature without ever needing to read another book ever again! The book includes:
• Tips for getting through anything you have to read by just reading every third word.
• How to fake it through a conversation about a book you haven't read.
• How to use literary insults to make yourself sound smarter.
The author Dan Wilbur is a bookseller at the Community  Bookstore in Park Slope and stand-up comic. His writing has been featured on Collegehumor.com, McSweeney's Internet Tendency, and The Onion News Network.
Comments