Park Slope Political Author Jodi Kantor Live Tweets Michele Obama's Speech
September 5, 2012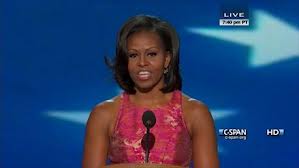 Last night, Michelle Obama delivered a stunning speech at the Democratic National Convention. In my opinion she hit the ball right out of the park and may have turned the election, which appears to be a dead heat .
While I watched it on TV, I was following Twitter and noticed that Jodi Kantor was live Tweeting the speech. Kantor is the author of The Obama's, a book about the first couple in the White House. Connie Schultz of the New York Times wrote of the author: "Ms. Kantor is attuned to the nuance of small gestures, the import of unspoken truths. She knows that every strong marriage, including the one now in the White House, has its complexities and its disappointments.
Kantor's  Tweets were quite interesting. She may know more about POTUS, FLOTUS and their marriage than any other political writer. Here are Jodie Kantor's Tweets in reverse  chronological order.
 –President Obama and his daughters, Malia and Sasha, watch on television the First Lady's speech to the DNC tonight:

–Michelle Obama is telling Republicans, independents: yes, it's OK, vote for him.

–Did you know that Barack Obama has written personal checks to struggling Americans? Extremely revealing. Reported by

–Take a sec to picture Barack Obama "strategizing about middle school friendships." Very funny/sweet.

–Forget fancy clothes and vacations, this speech is full of humble touches—struggling parents, old cars, janitors who deserve respect.

–Michelle Obama is talking about two men in this speech—Barack Obama and (without mentioning his name) Mitt Romney.

–For years in Chicago, Michelle Obama encouraged her husband to get a more lucrative job.

–2nd best line of speech: "We were so young, so in love, and so in debt."

–None other than @pbsgwen says the dress is Tracy Reese.

–Notice how cleverly she is reframing the fact that some of her husband's choices were unpopular.

–Michelle Obama has heard many, many other people define her husband. Tonight is her turn.

–Best line of speech: "Being president doesn't change who you are, it reveals who you are."

–Implicit message: we may be president and first lady, but we're like you. We are you.

–Many classic Michelle Obama beliefs in this speech– wealthy people aren't better, they often just have more luck/opportunity/access.

–The president's mom woke him at 4:30 am for English lessons, and Michelle Obama's mom brought home workbooks so her kids would get ahead.

–Interesting line: "For my dad, that's what it meant to be a man."

–Romney, I see you your tuna pasta and I raise you Barack's rusty car. #Michelle #DNC. (This was a retweet of a Frank Bruni tweet).

–Michelle Obama mentions her father Fraser, who died 2 decades ago, in every campaign speech. He is her lodestar.

–This is an expanded version of Michelle Obama's standard speech, w/new poignant anecdotes and funny lines.

–For tonight we are supposed to forget about Michelle Obama as designer darling and fashion icon. This speech is about humble virtues.

–Also, the simple joys of being a political celebrity and commuting to DC. But OK.

–The Obamas don't bring their girls on the campaign trail much these days, but they mention them again, again, again, again.

–A visibly more confident and experienced speaker than she was four years ago.

–This speech could be called "The Obamas Next Door." It's all about how they are regular folks who have experienced economic struggle.
Comments