Honey & Wax: A Different Kind of Rare Bookseller in Park Slope
September 4, 2012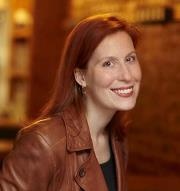 It was only a matter of time before the first indie rare book dealer arrived in Park Slope. Sure, Brooklyn has always had great used bookstore like P.S. Books, Unnameable, Book Thug Nation. Park Slope used to have quite a few before high rents got the best of them. But Honey & Wax Booksellers, founded by Heather O'Donnell, is truly something new.
A Park Slope resident for 15 years (and a PS 321 parent), Heather studied English at Columbia and Yale, where she worked as a curatorial assistant in the Beinecke Library. After three years teaching at Princeton, she left academia for rare books, learning the trade in the flagship gallery of Bauman Rare Books.
In other words, Heather has major cred.
Last fall, she left to launch Honey & Wax out of her Park Slope dining room. She specializes in surprising copies of classic literature, "books with a social life and a secret past."
"It's a risk, but there's a real opportunity now for a different kind of bookseller. I say this because all around me, I see the emergence of a different kind of collector. Digital text has made everyone newly aware of the qualities of the printed book," she writes in an email. "Some people don't miss those qualities, but others really do, and seek out printed books by choice.
On September 23rd, Heather will be the first rare book dealer ever to exhibit at the Seventh Annual Brooklyn Book Festival, the largest annual literary event in NYC. There she will be handing out the first Honey & Wax catalog, which features eighty books photographed in a friend's Ditmas Park home, at the Brooklyn Book Festival.
She'll also be displaying a wonderful selection of books, including some of her favorites: Walker Evans's copy of The Waste Land, Graham Greene's copy of George Eliot's letters (with his handwritten indexes in each of the seven volumes), a signed first edition of Toni Morrison's Beloved, a first edition of Countee Cullen's Color, an inscribed first edition of Truman Capote's Tree of Night and even a signed first edition of Maira Kalman's Max Makes a Million. 
Full disclosure: Honey & Wax Booksellers is a client of Brooklyn Social Media, my new PR and social media firm for entreprenuers and authors.
Comments