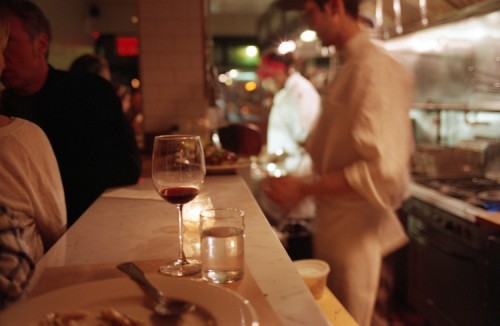 Last night, for my birthday, we went to Bar Corvo, Al Di La's sister restaurant in Crown Heights. It is slightly more casual, slightly less expensive and no less wonderful than Al Di La.
The friends we went with were concerned that it would be crowded as it usually is. They've had to wait an hour to get in there, as you'd expect from a restaurant owned by Al Di La.
Well, because it was a Tuesday night during the last week in August,  it was easy to get a table inside and out in their lovely back garden. And we parked our car right out front.
The food was fantastic. The service, by a waiter I recognized from the Fifth Avenue Al Di La, was fantastic. The experience was lovely. A really special birthday dinner. Funnily enough, it was the birthday of our waiter as well.
I ate the Confit of Duck Leg Confit with roasted peaches (yes, peaches) and it was sooooo delicious. We drank an excellent bottle (or two) of Rose. My husband had the Heritage Pork Chop with grilled greens and creamy polenta ($18). For an appetizer, we shared a Calamari Salad, which was also fabulous.
For dessert (with a candle) I ordered the Creme Freche Panna Cotta with rasberry. Yum.
Photograph from http://ruinista.com/2012/04/04/on-cheating/