Amy Sohn to Jake Dobkin: No Response
August 24, 2012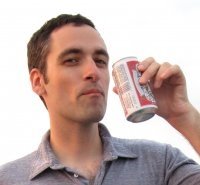 File this under: The gloves are off.
Jake Dobkin, publisher of the Gothamist, tried to interview Amy Sohn, author of the new book Motherland. But all of his questions, which I'm assuming he submitted via email, went unanswered.
Admittedly, he did come on strong. Still, I don't understand why Sohn didn't answer. She seems pretty tough. Can't she take it? She's pretty merciless when it comes to her satire of Park Slope and its inhabitants.
Jake Dobkin: I read your Awl piece. My first reaction was that some of the stuff you described, like doing "body shots", partying with your mommy friends till 3 a.m., and blowing guys you aren't married to, didn't really happen, or only happened once- like you're making it up just to troll internet commenters, or you imagined it, like in Fight Club, where the other mommys in your "Hookers, Sluts, and Drug Addicts" club are really just in your head and you're actually sitting at home alone with one glass of wine most nights. That's true, right?
Sohn refused to answer any of his questions and gave this reason: "I can't answer these questions. Even for a writer who bares a lot and writes about her personal life, they're too invasive and too hostile. And I'm not sure that all of them are really questions." 
Fair enough.
Check out Dobkin's interview:  A Short Interview With Park Slope Author Amy Sohn, Who Didn't Answer Any Of Our Questions
I did love this question that Dobkin lobbed Amy Sohn's way:
Dobdin: As you know, I was raised by radical Stalinists in Park Slope in the 1980s. What really galls me is how the values that I was raised with, which were all about community, sacrificing for others, and avoiding consumption, have given way to the world described in your book- militant materialism, especially around real estate, and the celebration of toxic values like celebrity and fame- here I'm thinking of your obsession with Maggie Gyllenhaal and her husband. Is it true that if you give a liberal a piece of property and twenty years, they always turn conservative? Why has Park Slope turned its back on the leftist values of the past?
No response.
Comments