80 Park Slope Artists Participating in Go Brooklyn
August 24, 2012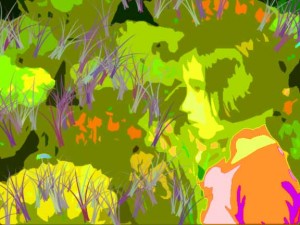 There are 1,814 artists participating in the Go Brooklyn Arts massive open studio weekend on September 8-9, 2012. Eighty of them are in  Park Slope.
That's a bigger number than I expected. There are a lot of artists in and around Park Slope but most of them don't have their studios in Park Slope, a neighborhood made up mostly of apartment buildings and brownstones. We don't have much in the way of loft or industrial buildings.
Go Art Brooklyn is a crowd -curated, crowd-sourced open studio extravaganza backed by the Brooklyn Museum. As an art appreciator, you can sign on as a visitor and actually vote for the artists you like best during your studio visits.
Of the eighty Park Slope artists, I know a few including my husband Hugh Crawford, who will open his photography studio right here on Third Street. "The last few years I have been making photographs I describe as "tangles". They are of rose bushes, ocean waves, the banks of the Gowanus Canal, amusement park rides, trees, and distressed ground. What I am trying to capture is "the act of seeing." Since mid-2011, my work is multiple exposures reassembled into single compositions with some of the work printed as large as 20 feet long," he writes in his Go artist statement.
Also, Bernette  Rudolph (above), whom I consider the elder goddess of Park Slope artists, will be showing her prints and mixed-media work in her Third Street studio, as she's been doing since 1985. "I work in my art studio with music or silence depending on what I am creating. I have been a working artist over fifty years exhibiting in museums and art galleries thru the United States. My current inspiration is photographing the people I see on the streets of New York City and the vast variety of people who ride the New York subways. I use photo shop to turn the photos into works of art," she writes in her Go artist statement.
Gregory Frux is another Park Slope artist participating. His work celebrates the life of his city in oil paintings and drawings. His work has earned recognition from such diverse organizations as Brooklyn Arts Council, The Library of Congress, Lincoln Center, the Metropolitan Transportation Authority and the National Park Service," he writes in his artist statement.
Mary DeVincentis open studio will feature her "One Hundred Not Famous Views," a series of monotypes inspired by many years of meditative walks in Prospect Park. "It is an homage to Hiroshige's woodcut series, One Hundred famous Views of Edo. These prints are one of a kind, expressive, spontaneous and painted with a full palette on a single plate in a single session as opposed to the carefully planned process of creating color woodcuts," she writes on her artist statement.
Lauren Greengold will open her Prospect Park West studio. "My work has always been involved in the act of seeing, witnessing. That is what painting has given me, a tool to really see with. Sometimes the work has become the record, a witnessing of a dream or a memory, or a history that no longer exists. As of late, even the act of making the work is one that is about being there to see it, even if it is a passing thought, a dream, or something right before my ey
Simon Dinnerstein, who is perhaps the most well-known Park Slope artist will also open his studio to visitors September 8-9. His painting, the acclaimed Fullbright Triptich, will be on display at the German Consulate in Manhattan through 2015.
"I am interested in exploring the mysterious and haunting aspects of dream states and "time suspensions." The floating nude, "Purple Haze" (65 inches) and "A Dream Play" (82 inches) , the last image, are examples of this theme. Multiple realities and geographies collage themselves into a map of the unconscious."
Filed under:
arts and culture
by
admin
·
3 Comments
Tags:
11215
,
Bernette Rudolph
,
Brooklyn
,
Brooklyn artists
,
Brooklyn Museum
,
Gregory Frux
,
Hugh Crawford
,
Lauren Greengold
,
Mary DeVincentis. Go Art Brooklyn
,
open studios
,
Park Slope
,
Simon Dinnerstein
Comments