My Brooklyn: Big City's Lauren Ruff
August 21, 2012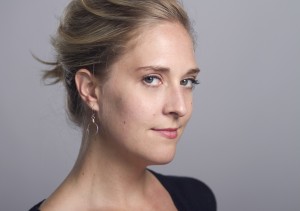 For fun, I decided to interview Lauren Ruff, whose web comedy series Big City was featured on OTBKB yesterday. She lives and works in the South Slope and films her web series all over the borough.
Fave Food:
"Hands down, Lot 2. (and no, not just because I worked there for two years). Because, the food there is like being in mom's kitchen. Small menu, all prepared with care and love. Fantastic drinks. Definitely a staple for me.
"I also love Giuseppina's for Pizza. They are the sister to Lucali in Carroll Gardens. Fonda for Mexican is fantastic, especially for outside dining in the summer. If you want a beer, Beer Table is also a staple. so freaking cute and every beer you could imagine. Also the popular Talde is becoming a favorite, on off nights when the wait is less crazy."
Fave stores:
Hmmm, well there really aren't too many stores for shopping in South Slope, sadly. But there is a new little shoe store I found that I really like called A Shoe Grows in Brooklyn. I recently splurged and bought two pair there. (Unheard of for me.)
There is a great cheese and wine shop on 7th that used to be called Grab and is now called The Ploughman. Also Big Nose Full Body and Slope Cellars are two awesome wine stores.
Fave books:
Books. My roommate handed me this great book called Penelope by Rebecca Harrington. I loved it! It's about a girl who goes to Harvard and doesn't seem to "fit in" but we quickly learn that she is normal and everyone she meets at Harvard is bat shit crazy. (truth? I wouldn't know. I went to liberal arts school…..)
 Fave weeknight activity:
Lately my favorite weeknight activities are the movies down in Dumbo on Thursdays. Those are reallllly fun. Also Nitehawk in Williamsburg is fantastic for movie watching and food eating.
 Fave weekend activity:
Weekends I love picnicking in Prospect Park with friends and sitting right outside of the Celebrate Brooklyn Bandshell. It's a great spot to hear the music and watch fireflies without dealing with the masses of people. Heading out to Rockaway for some Tacos and beach action is on the top of my list if I can get away. Also the taco trucks in Red Hook at the ballfields on weekends are bomb. I like tacos a lot.
Face Place to film:
Favorite filming spot? Hmm, I think filming under the BQE was pretty neat. Dodging cars and all. I also filmed something once on South 6th in Williamsburg, which was really neat because of the views of the bridge.
Fave secret spot:
Best secret spot for being alone. I like to sit on the bench outside of Southside Coffee. Its perfect for sunning, texting, talking on the phone and saying hello to neighbors like an old lady would. Also the dumbo waterfront is great for quiet time. And honestly, I also enjoy riding my bike around the loop in Prospect park. Nothing better on a quiet morning.
Filed under:
arts and culture
by
admin
·
Comments Off
Tags:
A Shoe Grows in Brooklyn
,
Beer table
,
Big Nose Full Body
,
Celebrate Brooklyn
,
Fonda
,
Lauren Ruff
,
Lot 2
,
Penelope by Rebecca Harrinton
,
Rockaway for tacos
,
Southside Coffee
,
SYFY movies in Brooklyn Bridge Park
,
The Ploughman
Comments