Before the Summer Ends Visit Brooklyn Bridge Park
August 20, 2012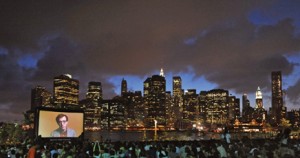 If you haven't explored Brooklyn Bridge Park this summer you really should.
Put it on your summer  "TO DO" List.
The Park is definitely Brooklyn's newest tourist and native attraction—something to show the out-of-towners and something to enjoy on your own.
There's lots to see. Take a walk from DUMBO and check out the fabulous carousel and then walk or bike towards Atlantic Avenue along the river. Or you can do what I just described in reverse starting on Atlantic Avenue and going towards DUMBO.
During the week, check the events schedule because there's Jazzmobile, free fitness activities like Pilates and more.
As for the movies al fresco, there are only two screenings left this summer at Brooklyn Bridge Park. It's a remarkable spot to watch a movie.
On Thursday, August 23, they're showing Unforgiven [R] directed by Clint Eastwood with Morgan Freeman and Gene Hackman with a short, The Hunter by Marieka Walsh. DJ Emch Subatomic (of Subatomic Sound System) will be on h and supplying the grooves.
On Thursday, August 30, the final movie of the summer is selected by public vote! DJ Geko Jones (of Que Bajo) will be on hand playing music.
Filed under:
arts and culture
by
admin
·
Comments Off
Tags:
activities
,
Brooklyn
,
Brooklyn Bridge Park
,
brooklyn heights
,
Clint Eastwood
,
fitness
,
Morgan Freeman
,
movies outdoors
,
pilates
,
summer activities
,
SyFy Channel
,
Unforgive
Comments