Emerging and Acclaimed Writers at Ft. Greene Summer Literary Fest
August 17, 2012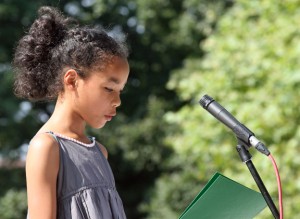 Tomorrow is the 8th Annual Fort Greene Park Summer Literary Festival, an event which provides a means for self-expression and creativity for that area's young people, and builds community through arts and literature.
The Lit Fest caps a six-week series of free Saturday creative writing workshops for young people and includes tomorrow's end-of-summer reading featuring literary icons Jessica Hagedorn, Tayari Jones and Earl Lovelace. The host will be LC Cumbo of MoCADA. Young writers who participated in the  creative writing workshops will also be featured front and center .
The Caribbean American Sports and Cultural Youth Movement (CASYM) Steel Orchestra will be in attendance. This group has been providing academic, recreational, social, and cultural activities for young people since its incarnation in 1983.
The organization's steel band, which can include up to 90 members, has traveled the world performing steelband music, and has taken home prizes at the world's largest steel band
Thanks to the New York Writers Coalition, which sponsors the Lit Fest (along with a host of other organizations) this event unleashes the  power of the written word to give voice to the thoughts and experiences of everyone, not just the privileged and powerful.
The Fort Greene Park Summer Literary Festival is presented by Akashic Books, Greenlight Bookstore, NY Writers Coalition, and the Fort Greene Park Conservancy, with additional support from Amazon.com and the Walt Whitman Project.
Comments