Aug 29 at 9PM: Benefit for The Illustrated Penguin
August 16, 2012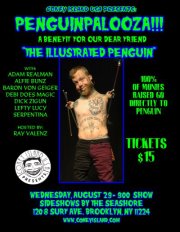 Coney Island Circus Sideshow cast member, The Illustrated Penguin, went to the emergency room approximately three weeks ago and has been in the hospital ever since. Turns out he is going to need major surgery.
Debi Ryan writes that Penguin loves working as a performer, but he's been unable to do his job for almost a month now. "In addition to all of the stress this has brought on, he still has his usual bills mounting with no way to pay them. Luckily, he's got some really talented friends, and they want to PUT ON A SHOW in order to help pay for these living expenses."
His friends are calling this fundraiser for Penguin, Penguinpalooza! and it happens at Coney Island USA on Wednesday, August 29 at 9PM.
Penguinpalooza! will be hosted by Ray Valenz and will feature all the sideshow performers, including Adam the First Real Man, Alfie Bunz, Flesh Suspension by Baron Von Geiger, Betty Bloomerz, Lefty Lucy, Serpentina, and Mr. Coney Island himself, Dick Zigun.
Comments