If You Missed Lyle Lovett at Celebrate Brooklyn: Have a Listen
August 15, 2012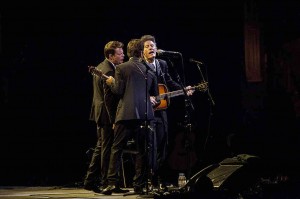 Celebrate Brooklyn is one of the rewards for those who decide to spend the summer in the city.
This summer was an especially sweet reward for those who got to hear Wilco, Jimmy Cliff and Lyle Lovett.
If you missed Lyle Lovett's show at the Prospect Park Bandshell with his acoustic band, as I did, you can hear a little of it on this NPR podcast with photos.
He's been touring in one way or another for thirty years and he's really a new country institution. Heck, he was married to Julia Roberts for a few months. On the closing night of Celebrate Brooklyn he played songs from his most recent album Release Me, as well as favorites from throughout his career, including That's Right You're Not From Texas.
Comments