Aug 25-26: Afro-Punk Festival at Brooklyn's Commodore Barry Park
August 14, 2012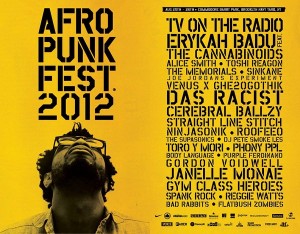 The Afro-punk Festival is returning to Brooklyn's Commodore Barry Park for the 8h Annual Afro-punk Festival on August 25-26. And it's free.
So where is Commodore Barry Park? It's on Flushing Avenue near the Navy Yard.
And who was Commodore Barry? From Wikipedia: John Barry (March 25, 1745 – September 13, 1803) was an officer in the Continental Navy during theAmerican Revolutionary War and later in the United States Navy. He is often credited as "The Father of the American Navy.
Here's the schedule:
August 25 – Saturday
Erykah Badu & the Cannabinoids
Spank Rock
Das Racist
Cerebal Ballzy
Ninjasonik
Toshi Reagon
Oxymoron
 August 26 – Sunday
Reggie Watts
Janelle Monae
TV on the Radio
Gym Class Heroes
Straight Line Stitch
Skindred
Toro Y Moi
The Memorials
Bad Rabbits
Gordon Voidwell
Phony Ppl
Body Language & more to be announced
https://www.facebook.com/FreeNYCConcerts
FREE – No ticket is needed, just come and have a beautiful time :)
Comments