A Computer Learning Lab for Good Shepherd From Time Warner Cable
August 13, 2012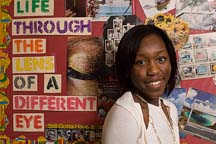 Here's a good deed from Time Warner Cable, the company cable and Internet users love to hate.
Today, they opened a state-of-the-art Learning Lab at Good Shepherd Services in Park Slope, Brooklyn, located on Fourth Avenue near Ninth Street in Park Slope. The community services organization is the first in the borough to receive a Learning Lab, which is meant to provide community members with access to computers, e-learning programs and high-speed Internet to assist with their educational and professional development needs.
This Learning Lab is an essential addition to Good Shepherd Services which is dedicated to helping young men and women get the skills they need to enter the work force. Check out the Good Shepherd website to learn about all the services they have to offer for children and adults. It sounds like an amazing organization.
The Learning Lab is powered by high-speed Internet from Time Warner Cable Business Class, which is also providing the lab's television and HD DVR services. The facility is also fully equipped with computers, computer software, printers and a HD television that are completely underwritten by Time Warner Cable. The value of the donation exceeds $50,000.
"Good Shepherd Services is very grateful to Time Warner Cable for their partnership and support in establishing the Time Warner Cable Learning Lab at our Fifth Avenue location in Brooklyn," said Sr. Paulette LoMonaco, Executive Director of Good Shepherd Services in  a press release. "This facility aligns perfectly with Good Shepherd Services' mission to provide youth and families with the services and support they need to make a safe passage to self-sufficiency.
Comments