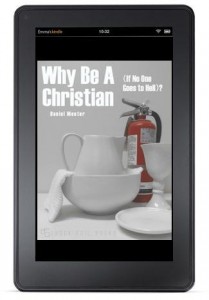 Jewish or not, how could I not want to read a book by the erudite, learned and ecumenical Reverend Daniel Meeter of Old First Dutch Reformed Church of Park Slope, Brooklyn, whose example of loving kindness infuses that  neighborhood with a certain joy. His argument for Christianity includes debunking myths about the idea that non-Christians are destined to spend eternity in hell.
The book, Why Be A Christian(If No One Goes to Hell)? from Shock Foil Books, is warm and readable but also backed by a deep knowledge of the subject. The son of a Dutch reform minister, Meeter has a Ph.D and brings a strong liturgical background to everything he does.
I was delighted by the readability of the language and the humor. Chapter Two is called The Good News About Hell and sub-sections include But First, the Bad News and then, The Good News is the Bad News Isn't True. His emphasis in the book (and in life) is on the peaceful and loving aspects of the Christian faith, without being judgmental of other religions. In fact, Meeter has a strong interest in other faiths and the ways in which they inform each other. "The God of the Hebrew Bible which the Christians called The Old Testament would be horrified at the thought of keeping somebody alive a long time in confinement just to torture him. When the prophets call down the fire of God upon their enemies, it's to consume them not to roast them slowly," he writes in the e-book.
This book is for Christians and non-Christians alike who are curious—So what is all this hell and damnation stuff all about anyway? Meeter argues, quite convincingly, that suffering in hell is not part of the original Biblical faith and belief in hell is not a prerequisite to being a Christian. Indeed, his love and deep understanding of the Bible is at the root of this book. He writes, "I love the Bible and I honor it. I take the Bible literally when it means to be literal. Some sections are intended to be as accurate as a newspaper, but other sections are as poetic and metaphorical as a Shakespeare sonnet."
I only read through the second chapter, which you can read at the Amazon site (Look Inside, indeed) but plan to download to a Nook or Kindle (as soon as I get one which will be soon I hope).