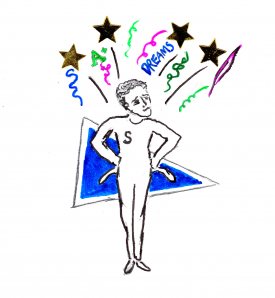 Yesterday, I met blogger Daniel Levin at the Tea Lounge, which was full of people staring at their laptops, sipping coffee and, ostensibly, working or trying to get work. We were introduced by my friend Paula Bernstein, author of Identical Strangers: A Memoir of Twins Separated and Reunited.
Truth be told, Levin is nothing special. In fact, he writes a blog called Nothing Special(Tales from a Generation Unfulfilled) dedicated to people who suffer from "specialness," something he deems akin to a long-term medical disorder. "We are bitter, jealous people with few practical skills and lots of gold stars. There is no known cure. But this blog is the first medically proven* site to help sufferers," he writes.
Levin, a graduate of Yale University, a playwright and lyricist, ponders what happens to all these special people? Do they go on to fabulous jobs or are they sitting in the Tea Lounge trying to get ahead in the world?
Nothing Special is a blog for people who believe what they've been told all their lives by parents, teachers and college acceptance letters. When they finally go out into the world, they realize that the world is actually filled with a lot of special people (and not all of them went to Yale).
"Our parents thought we were special and saved all of our artwork," he writes on Nothing Special. "Our teachers told us we were highly verbal. Our movies told us we could win a karate tournament from six months of training with a handyman, and make our family hot by going back in time. From Mr. Rogers to Stuart Smalley, we were assured that always, no matter what…we were…(stage whisper) special."