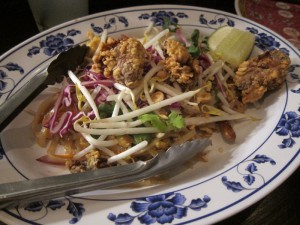 Donna Minkowitz, who lives in Park Slope, writes exceedingly well about food on her blog, which isn't surprising because she's an excellent writer and the recipient of a Lambda Literary Award for her memoir Ferocious Romance: What My Encounters with the Right Taught Me about Sex, God and Fury.
A former feature writer and columnist for the Village Voice, she has also written for the New York Times Book Review, Salon, The Nation, New York magazine and Newsday.
But food. Food seems to be a passionate subject for Minkowitz. On her blog she writes sensuously of eating a McDonald's hot apple pie as a 10-year old. "I was moved deeply by something about the burning liquid inside the pastry package, the near-searing of my lips when I took a bite, the mystery of the musky, tangy ooze cut with cinnamon. I wanted that pie in a way I have never wanted any other food. (I think I was literally in love with it.)."
Because I recently sat at the bar at Talde and enjoyed an appetizer called Pretzel Pork & Chive Dumplings, which was delicious (if a bit greasy),  I was interested in her review. Here's Minkowitz on their Bacon Pad Thai - Fried Egg, which sells for $14 at brunch. I assume it's a variation on their Crispy Oyster & Bacon Pad Thai that they serve at dinner.
...Talde was so good that it made me want to communicate minutely about every aspect of the food I could, as though it were a piece of poetry or a weird white flower growing on the moon.

Talde is an Asian-American restaurant (that's what its owners call it) in Park Slope, Brooklyn, New York. I ate the bacon pad Thai, which is an oyster-and-bacon pad Thai at dinner, and was stirred to a degree that bordered on emotion by its sour, complicated, enlivening flavors. With fat chunks of bacon, it tasted of lime, of fish funk from the great sauce called nam pla, of salt, and an almost indescribable tanginess. I wanted more fat and even more of that funky fishiness – probably the addition of oysters at dinner helps it. There were some peanuts, but I wanted more, and some more minced herbs for contrast. Even so, I loved it so much that its peculiar sour mix of flavors has stayed with me a month later. I ate the entire bowl, even though it was huge and mostly noodles.