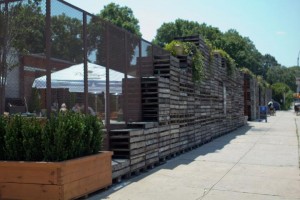 It sounds like quite the extravaganza.
Greenwood Park is a 13,000-square-foot beer garden, bar and restaurant, which opened recently at the foot of Green-Wood Cemetery (555 Seventh Avenue). Open noon until 2AM, they've got 60 tap lines, an indoor bar as well as an outdoor cargo bar, 3 bocce ball courts a menu that will be serving from noon to midnight
Quite the extravaganza.
I love the fence made of shipping containers. That's all I've seen. I might just go and take a look and get a, um, a beer. Have you been?