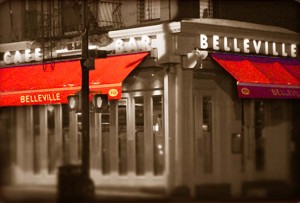 Sending some love to Here's Park Slope, who has a a story about Belleville, the once lovely and authentic French bistro on Fifth Avenue and Fifth Street, which has changed hands more than once over the years. Apparently, it closed for a couple of days recently and then repopened under new management. Here's an excerpt from HPS:
"Belleville, on the corner of Fifth Avenue and Fifth Street, would certainly be on the list (along with Moutarde and I'm sure a few others). It appears that the French bistro had a close call over the weekend, as they were closed for a couple days and re-opened with a sign on the front window saying that the restaurant is now under new management."
Walking by Thursday evening, I noticed a banner saying "Under New Management" covering up the Belleville sign. In addition, the white letters that spell Belleville above the awning have been taken down leading me to conclude that the new business will not be called Belleville. The words "cafe" and "bar" remain.
Stay tuned.