Brooklyn Artists Gym Becomes Brooklyn Art Space
July 26, 2012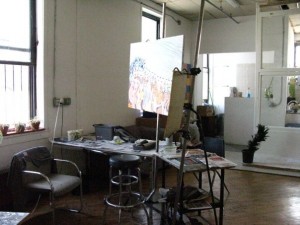 Seven years ago the Brooklyn Artists Gym opened. A resource for studio and exhibition space for local artists, the space has evolved many times to accommodate the ever growing number of members who made use of it.
As of this week, Brooklyn Artists Gym will operate under a new name, Brooklyn Art Space. There are two cogent reasons for the name change. "First, if the staff gets one more inquiry about fitness facilities, they may just lose it!" the new management writes in an email.
Secondly, and perhaps more importantly, Peter Wallace, the founder of Brooklyn Artists Gym, is moving on to other pursuits and will pass the torch to his current staff: Rhia Hurt, Director; Ajit Kumar, Advisor; Mary Negro, Gallery Coordinator; Jannell Turner, Consultant; and Rachael Whitney, Marketing Coordinator.
I remember seven years ago meeting with Peter at the now defunct Perch to discuss his new venture, Brooklyn Artists Gym. Perch must have just opened around that time, too. Peter had a real vision about it and many creative ideas that would come to pass.
"Peter's vision is what brought everyone here, and the staff will continue to expand upon this vision as Peter moves onto the next phase of his creative process. His insight, enthusiasm, and devotion to the studios will be missed!"
And so it is: Brooklyn Art Space is now christened.
Comments