New Penguin Chick at the Aquarium in Coney Island
July 24, 2012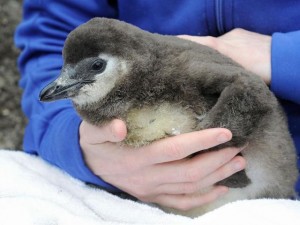 Say hello to the newest addition to the Wildlife Conservation Society's New York Aquarium in Coney Island is a black-footed penguin chick, the first one to hatch in 15 years at the aquarium.
A penguin chick.
Black-footed penguins are endangered, making the chick's arrival significant not only for the aquarium, but for the species' survival.
The female chick was born in February to mom, Boulder , and father, Dassen. Penguin chicks have soft downy plumage that stays with them for a few months until their juvenile feathers come in followed by adult plumage. The black-footed penguins can be seen in the aquarium's indoor/outdoor Sea Cliffs exhibit.
Comments