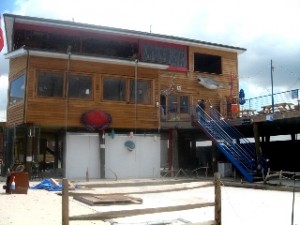 After shopping at Fairway on Saturday afternoon, I decided to sit at the bar at Brooklyn Crab in Red Hook and have a glass of wine and some lunch.
Brooklyn Crab is the latest addition to the Red Hook restaurant scene recently opened  by the folks who own Alma.
The shrimp cocktail I ordered was delicious, as was the wine. And the view. OMIGOD. From the fun bar, which feels like a shack you'd find on a magical beach somewhere, Brooklyn Crab has a fantastic view of New York Harbour, the Fairway parking lot, the Statue of Liberty, water, sun, sky...
It's very transporting. I highly recommend it for a Saturday afternoon. I'm sure the night is fun, too. But I hear it's been getting very crowded. My sister was told there was a three hour wait on a Sunday night.
Because Red Hook is hard to get to on public transportation, they offer free shuttle service to and from the Carroll St. Station of the F and G trains. Just exit the station and look for the little yellow school bus with the Brooklyn Crab logo.