What Is The Yellow Pages?
July 22, 2012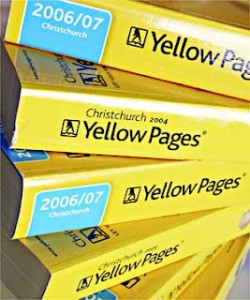 Remember The Yellow Pages? There's probably a stack of them on the stoop of your apartment building or brownstone. Millions of them were dropped off recently in the five boroughs.
There are young people who have no idea what The Yellow Pages is and why people would use it.
The Yellow Pages was the "physical Google" for finding local business phone numbers and addresses. For those of us above a certain age, it was our "link" to the services we needed. It was indispensable. Truly.
Not anymore.
They had a great advertising slogan:  Let your fingers do the walking. It's interesting to remember a time when we used The Yellow Pages and the White Pages constantly. The Yellow Pages is organized by category rather than alphabetically. The name? The books were originally printed on yellow paper. White pages were for non-commercial listings.
There are still uses for The Yellow Pages. Well, it makes a great door stop, a counter weight, scintillating bathroom reading. If  there's no Internet service, the Yellow Pages would be enormously helpful. I'd keep it around just in case. There are elderly people and those who don't use computers who still depend on it.
It's definitely becoming a relic of another time.
Comments