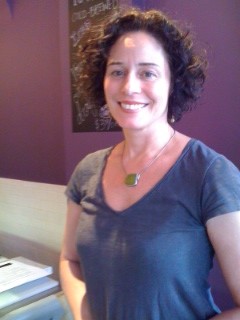 This morning walking into Forty Weight Coffee, the cafe that doubles as Sweet Wolf's restaurant, the owner said, "Someone mentioned your blog yesterday." Then he remembered that it was Alice at The Ploughman, the new cheese and gourmet food shop at 438 Seventh Avenue near 14th Street in Park Slope.
The Ploughman's Lunch is the name of a 1983 film with Jonathan Pryce and Tim Curry, but it's also a term for a cold sandwich served in British pubs with cheese, ham, pickle, apples, pickled onions, lettuce,  bread and butter.
The Ploughman offers artisan cheeses, meats, sandwiches, chocolates and beers. It is in the space that used to be Grab. Alice has revitalzied the decor of the old shop by painting it a gorgeous shade of purple. Not hippie purple but an elegant purple (see picture of Alice in front of her purple wall).
Clearly,  Alice has revitalized the shop with a foodie's selection of breads, sandwiches, condiments and items perfect for a Celebrate Brooklyn picnic.
The Ploughman features Forty Weight Coffee and also has olive oils and probably dozens of other things that are delicious and wonderful. I will most certainly be back to explore.