Retrieve the Missed Last Call at O'Connor's on July 11
June 27, 2012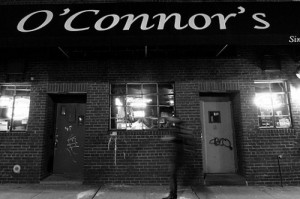 On July 11th from 8pm until closing at Freddy's Bar, you will have a chance to say a formal good bye to a Park Slope institution. It seems that there was no Last Call at O'Connor's Bar. There was only a subtle warning of an impending closure of the historic bar at 39 5th Avenue in Park Slope, Brooklyn.
But now the bar has shut its doors for "re-modeling," and it seems to be a foregone conclusion that it will never be the same.
Freddy's Bar, however, is doing the right thing, the prudent thing. They are offering O'Connor's "post mortem rectification" (that is, indeed, a mouthful).
 On July 11th, all are invited to celebrate the bar's history and retrieve that "Missed" Last Call, one last time, from O'Connor's bartenders– the proper sendoff this neighborhood institution deserves. Long-time O.C. barmen, Thomas and Matty the Kid, will grace the rails and serve patrons of both bars for this one special night.
And now a little history (not sure who wrote this amazing press release):
Since Prohibition Freddy's and O'Connor's have shared a rich history, a neighborhood, and a sense of defiance. More recently, in the 90′s, both bars waged a war on who could stay open later (Usually a tie since neither seemed to ever close.) A softball league, comprised of only the 2 Bars… Freddy's and O'Connor's. Plus, for years, particular Objects would disappear from one bar only to appear in the other, and vice verse. The legend grew such that even the NY Times covered the story. O'Connor's vs Freddy's– NY Times

Freddy's recently re-located to escape the Barclay Center, while O'Connor's weathered the passing of it's beloved and iconic patriarch Pat O'Connor in 2006, and a consequential change in ownership. The Gothamist says the bar is closed for " Evisceration," but Freddy's is offering one last round for OLD TIMES SAKE. Loyal regulars and ir-regulars who darkened the door at the now defunct bar can be served by O'Connor's bartenders for one last time. Here is the final chance for regulars, ir-regulars, and first timers to pay respect to a historic bar, a legacy and to the man Pat O'Connor himself.

The photograph is from Eater where there's an interesting piece about O'Connor's by Robert Simonson
Comments